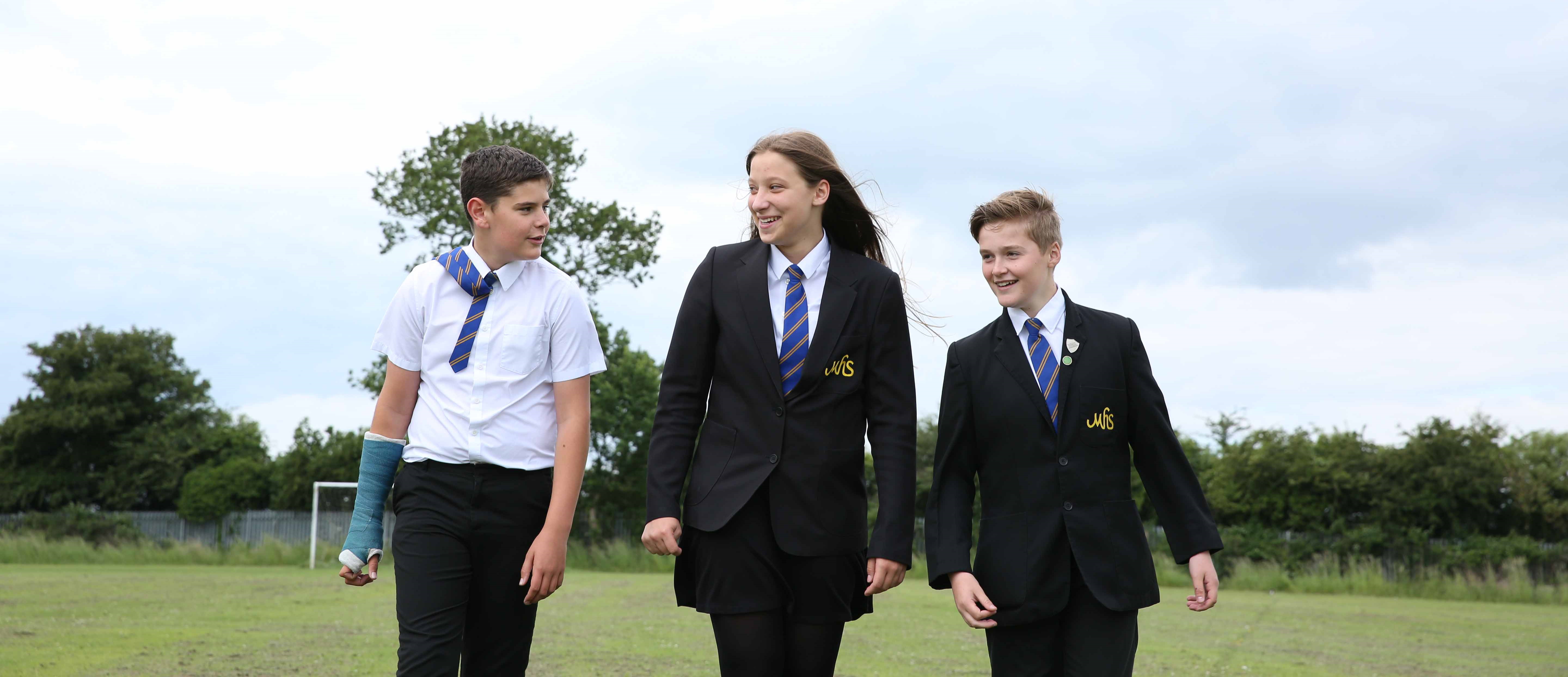 Uniform
At the Martin High School we believe that all our pupils are equal. Our uniform allows pupils to feel part of one community, whilst being both comfortable and smart.
Martin High School Dress Code
School Blazer – (Black with the Martin High School emblem) This is to be worn to and from school as well as at all times within school, unless direct permission is given by a member of staff.
Tie – (Martin High School Design) This is to be worn to and from school and during lessons. Pupils will be asked to remove it during specific lessons where health and safety guidance needed to be adhered to.
White Shirt – (Formal in design so that it can be tucked into trousers) This is to be tucked into trousers at all times.
Trousers – (Black formal in design) Formal, traditional style school trousers. They should not be – Skinny, jeans or jeans style, leggings, tracksuit bottoms, rolled up or ¾ lengths.
Black tailored knee length shorts or black under the knee culottes may be worn
Skirts – (Black and must be worn with plain black tights) These should be close to knee length. Pleated skirts are recommended. They should not be made from stretchy material or high waisted.
Shoes – (Plain black) These should not include colourful or eye catching logos.

Optional Clothing
V neck jumper or cardigan (Plain black)To be worn under the school blazer.
Cold weather clothing – (Warm waterproof coat, hat, gloves, scarf)Coats need to be worn over the school blazer during periods of cold and wet weather.
Hoodies are neither waterproof nor appropriate for school. When the weather is cold it is recommended that pupils wear their black v neck jumper or cardigan under their school blazer.
All outdoor clothing, (coats, hats etc…), are not to be worn inside the school buildings.

Additional school expectations
Makeup – If pupils wish to wear makeup it should be subtle and lightly applied. Pupils will remove make up if it is deemed too garish.

Eyelash extensions are prohibited in school.

Nails – Nail varnish is permitted however this must be removed for food technology. Acrylic or gel nails are not appropriate for school and should not be worn.

Nail extensions are prohibited in school.

Piercings- Only simple studded earrings are permissible. Hoops, rings, semi-circular, or any other piercings may not be worn. Only religious bracelets may be worn. If instructed to remove this for health and safety reasons, learners must adhere to this. Necklaces may be worn under shirts and should not be visible.
Any items that have been confiscated such as hoodies and mobile phones will be held in reception and will need to be collected by a parent/carer.
The school would wish to be sensitive towards students who choose to wear a specific item if it is for a specific religious reason.
Click Here to purchase the uniform from Schoolwear solutions.

Important Notice
As you are aware the Martin High School has a unique school uniform. Parents and learners were the driving force behind wanting a new uniform and were integral in designing it. We feel this continues to be an important part of our school community, illustrating the unity and common purpose of our individual learners as they go about their learning during their time with us. We are aware of the cost that goes into purchasing a school uniform and, with your unwavering support from home, will strictly apply the uniform policy. The following items are NOT permitted in school:
Jeans or jeans style trousers
Skinny fit trousers
Leggings
Lycra (stretchy material) pencil skirts
Our role at the school is to provide high standards of learning. In order to do this, we need to cut down on the time spent dealing with uniform issues. Consequently, we really do need your full support to ensure that all learners attend school in the correct uniform.
Please ensure that your child attends school with the correct uniform. Our uniform policy is available on the website and clarifies details of our requirements. If you are in any doubt, please contact your child's Head of House to discuss.