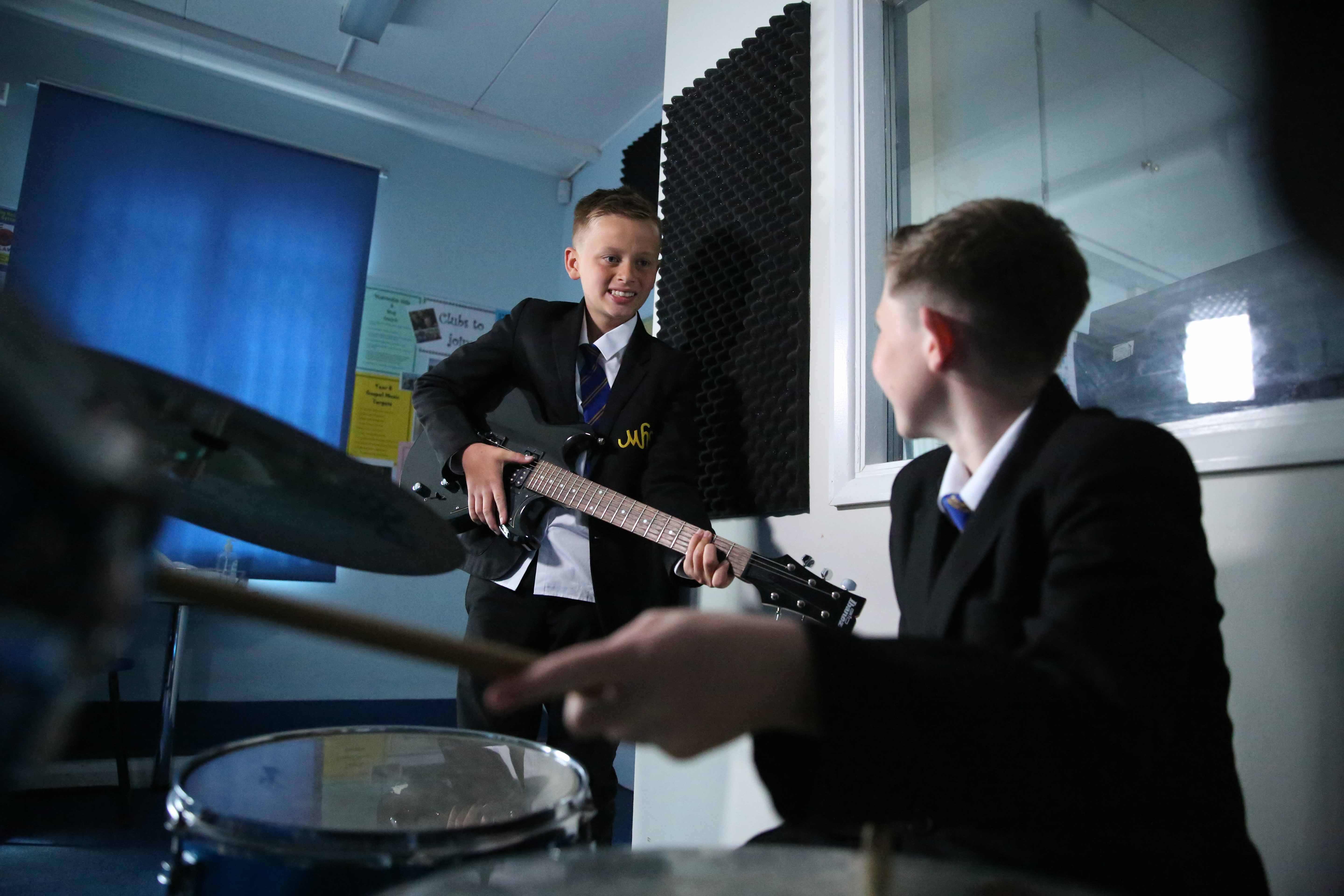 Music
The Music Curriculum is based on the New National Curriculum which is about:
applying listening skills, Knowledge and Understanding through interrelated skills of performing, composing and appraising.
Controlling sounds through singing and playing – performing skills
Creating and developing musical ideas – composing skills
Responding and reviewing – appraising skills
Breadth of study – performing, composing and appraising – use of ICT to create and manipulate sounds – range of live and recorded music – folk, jazz, pop genres, Western Classical music

Our Curriculum
Our Curriculum covers:
Practical music making using keyboards, Singing, Guitars, opportunities for Music Technology, Performance, Composing and Listening. There are opportunities to play orchestral instruments in ensembles.
Year 7 Learning to Play the Keyboard and Read Music Notation (Term One) Chinese Music (Term Two) Minimalism (Term Three).
Year 8 – The History of the Blues, Composing Blues (Term One), Composing a Ground Bass (Term two), Understanding Indian Music (Term Three)
Year 9 The Guitar (Term One), History of Pop Music (Term two) Film Music (Term three)
This provides a foundation for doing GCSE Music which has three elements to it:
Listening (40%) Music of various genres, Classical, Pop, Jazz, World, and experimental.
Performing (30%) A solo and an ensemble piece in any style
Composing (30%) Two pieces related to 2 different areas of study.
For this year's cohort of GCSE Music students, the pass rate was 88%.

Musical Instrument Lessons at Martin High School
Please take a look through the information on how to book instrumental lessons in this power point.If you need any further information, please contact Mrs Shaw directly by email: ann-marie.shaw@martinhigh.org .uk