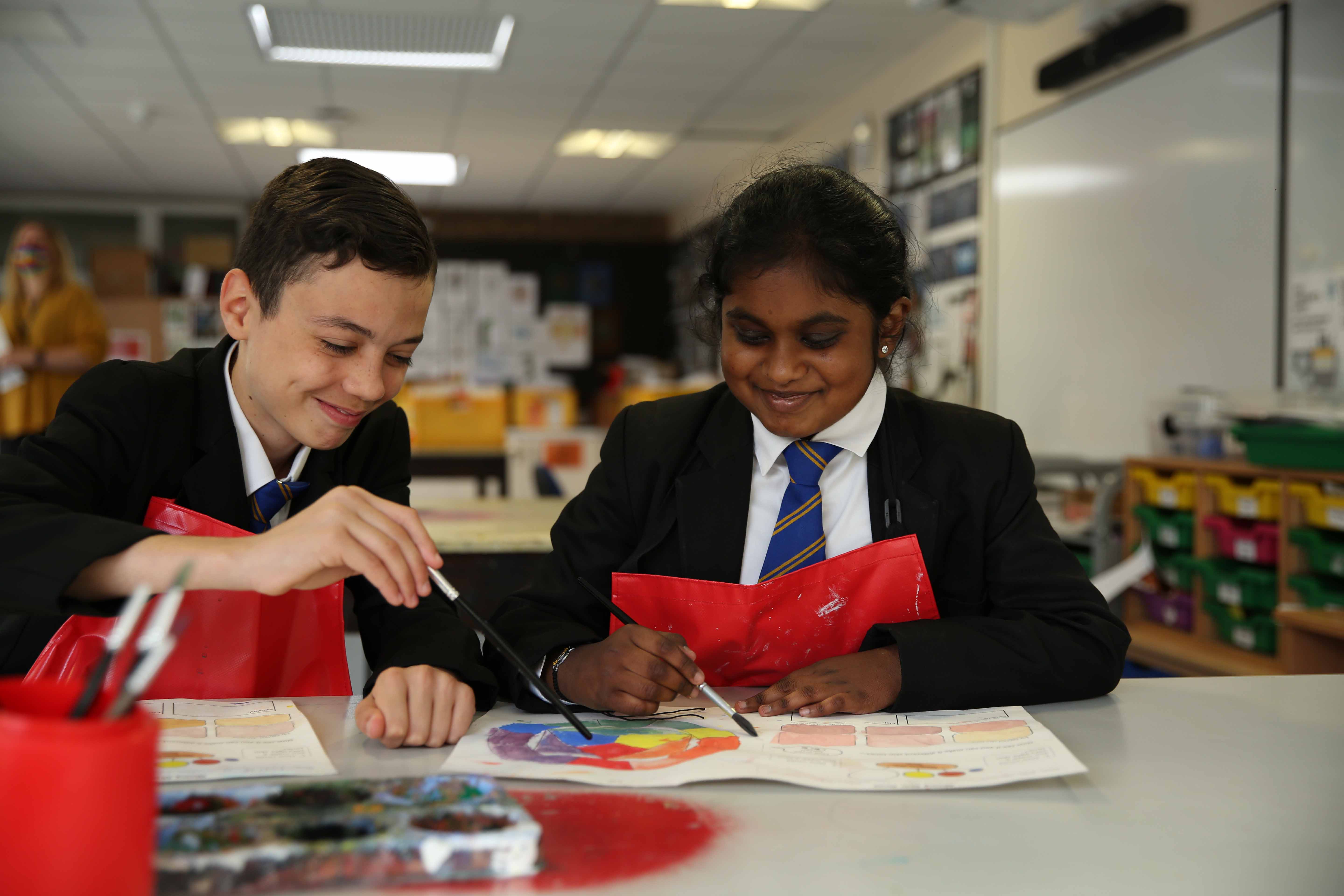 Art & Design
Art & Design at the Martin High School is taught by specialists in the areas of Ceramics and Fine Art.
Our pupils achieve very high levels in this area of the curriculum because it is heavily focused upon the child as an individual. Pupils are given the freedom to make choices that enable them to develop their creative thinking, problem solving, making and evaluation skills.
Art encourages our students to understand and visually communicate their thoughts, feelings and ideas. At the Martin High we put great emphasis on developing your child's drawing skills.  Pupils learn to draw from direct observation, imagination and perception.  Throughout KS3 pupils build upon acquired skills to explore, experiment and develop ideas effectively with increased accuracy.  Pupils engage with a range of artists, craftspeople and designers from different cultures to make connections with their own work.  Regular extended homework tasks are given to develop independent learning skills and to allow pupils to experience pride in their achievements along a journey of improvement.
During Key Stage 3 we investigate the following themes:
Year 7
Identity – 2D Art
Insect Sculptures – 3D Art
Year 8
Landscape – 2D Art
Natural Forms– Ceramics
Year 9
Skulls – 2D Art
Exquisite Corpse – Ceramics

GCSE at the Martin High School
Art & Design at the Martin High School is a highly successful subject within the school. Our summer 2016 results are the result of previous years of support and excellent KS3 provision offered by the school coupled with excellent specialist teaching. We are immensely proud of the sustained efforts and enthusiasm of our KS4 pupils.
Drawing and Painting (Fine Art) (78% A*-C 2016)
Three Dimensional Art & Design (Ceramics) (93% A*-C 2016)

Pupils will be offered
Unit 1 (30%) (First coursework project yr 10)
Unit 2 (30%) (Second coursework project Yr 11)
Externally Set Task (40%) An individual choice of starting question for the Exam

Why the AQA Exam board?
The Art Department at the Martin High School has chosen this route because of the sheer diversity it offers our pupils for their final unit of work – the Externally Set Task which is worth 40% of their final mark. For this the AQA offers a choice of 7 starting points for every pupil which allows a highly individual response.